This demo is too wide for your mobile screen.
Please view on a tablet or PC.
<!menu above----------------->

The Dower House Stanmore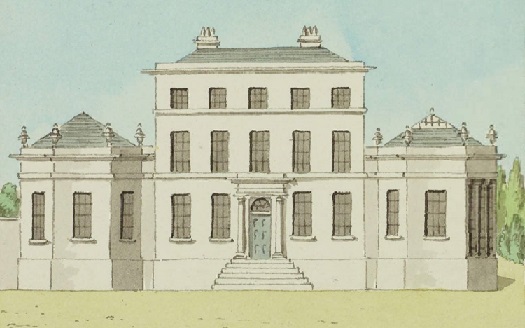 The Dower House Stanmore


The story of the plot of land around the current Stanmore Hall starts even before the Hall was built, the land belonged to Henry Brydges the second Duke of Chandos, who owned Canons and much of Little Stanmore. On this particular plot was his families Dower House. Dower Houses were generally built by the Lord of the Manor, an estate owner or nobility, and on the death of the titled peer, his widow often known as the 'dowager', would usually move into the dower house from the larger family house whilst the new heir occupies the now vacated principal house.
In 1780 James Forbes purchased part of the estates off the late Duke of Chandos, which included three significant properties, Warren House , Bowling Green House and the Dower House. In time he would also purchase the land between them and many of the fields adjoining Denis Lane consolidating them into a serious piece of real estate.
Forbes was in the service of the East India Company, and spent seventeen years living in India, it was during that time that he took an active interest of all aspects of Indian life, including botany, ethnology, and architecture. When he returned home to Stanmore in the 1780's he brought with him his huge collection of notebooks, running into over fifty thousand pages, filled with sketches of animal's, landscapes and religious objects. During his retirement he collated his drawings, letters and writings with a view to publishing them.
John Dalton, a good friend of Forbes and fellow employee of the East India company was courting Forbes's sister, after their wedding the three of them moved back to Stanmore and it was here that James Forbes met Rose Gaylord, another wedding ensued and by 1788 both couples were living happily together in Dower House.
Forbes significantly extended Dower House and had the grounds elegantly laid out. Their centrepiece was an octagonal pergola which Forbes had erected, and it was surrounded by Indian Sculptures. These pieces were gifts from the priests of Hindustan and had been presented as 'a grateful acknowledgement of his benevolent attention to their happiness during a long residence among them'. The sculptures excited a good deal of local comment, and it was said "are very ancient and the only specimens of Hindoo sculpture in this island."

James Forbes publication, which he entitled 'Oriental memoirs' written during his Seventeen Years Residence in India.

Forbes finally published his works in 1813 which he entitled 'Oriental memoirs' written during his Seventeen Years Residence in India, Including Observations on Parts of Africa and South America. The book still remains a universally valued document of the culture, flora and fauna of India at the time. Forbes had it all but wasn't content to sit at home, he travelled to France, but got caught up in the Napoleonic wars and was imprisoned for two years. After the wars finally ended in 1815 Forbes sold up the majority of his Stanmore Estate and travelled through Europe, he died at Aix la Chapelle Germany in 1819.
For the next 35 years the house changed hands between a who's who of High-ranking Army officers and society gentry. In 1815 the estate was purchased by Roger Elliot Roberts of Upper Grosvenor Street, a colonel in the service of the East India Company. Then in 1820 it went to General Alexander Campbell of Monzie. Campbell was a founding member of the Highland Society of Scotland in 1784, Member of Parliament for Anstruther Easter burghs and Stirling, and during his military career he attained the rank of General in the British Army.
In 1825 the house was bought by Edward Orme of Bayswater, Orme's profession was an engraver and painter and dabbled in property development. A prolific artist, his works totalling over 700 pieces, some of which are in the permanent collection of the national portrait gallery. Orme also produced some bespoke pieces for King George III. He published many books, subjects including, 'Rudiments of Landscape' in 1801 and 'Historic, Military, and Naval Anecdotes' in 1819.
To put his money to work Orme began purchasing land for development around his neighbourhood in Bayswater in 1808. The year after he purchased Dower House, He developed Orme Square from 1826 to 1828, which is still there and was named after him.
Making a quick buck, Orme sold the house on to Sir John Lambert GCB, a General in the British Army who served in the French Revolutionary Wars, the Napoleonic Wars and the War of 1812 and command the tenth brigade of British infantry at the Battle of Waterloo.
Next it was sold to one Thomas Teed of Argill House in Richmond, Surrey, coincidently Teed was to have a daughter named Ellen Julia, who when she was 18 married Robert Hollond, the balloonist and Whig M.P. for Hastings. They went back to the site of Dower House and she was to live there for the rest of her life. Then it would be called Stanmore Hall by now Dower House had been demolished and the even more impressive Stanmore Hall was built in its place .

Stanmore Hall C1953.

Finally, in 1842 the house and grounds were bought by the developer Matthew John Rhodes, and the Dower house was demolished. He called in John Macduff Derick to draw up plans for its redevelopment. Derrick was from Ireland and it was when he was training at Dublin university became a pupil of another leading light of the day, Sir John Soane. Soanes style was neo-classical and he would be remembered locally for works that he completed on Bentley Priory such as the rotunda, reception wing and the porte-cochere, and nationally for his work on the Royal Hospital Chelsea and the Bank of England. Derick couldn't have been more different in his style, his work favoured an ecclesiastical gothic look with towers and turrets, medieval oriels and statues adjoining battlemented walls and gatehouses.
The result is the wonderfully gothic Stanmore Hall which he recited from the plane of the existing property so as to command south-easterly views. In 1889 the Hall became the home of mining entrepreneur William Knox D'Arcy. Darcy had the concession for exploration in Persian for oil. On 26 May 1908 a company working on his concession found the biggest oilfield yet known in the world. This led in 1909 to the formation of a new company, Anglo-Persian Oil, which would later become British Petroleum. D'Arcy was appointed to the board of the new company, where he remained until his death. William Knox D'Arcy was buried in the churchyard of St. Johns.
It's great to think that nearly 200 years later, Stanmore Hall is still standing having been granted grade II* listed status in 1971. In 1998 The site was converted by contractor Relicpride into 22 luxury apartments with 2.5 acres of historic grounds. The building has received Harrow Heritage brown plaque which is attached to the wall by the main gate in recognition of the building and its owners

The other Dower House
This Dower House is not to be confused with another property named Dower House on Stanmore Hill. This second house was sited just to the south of the original Dower House and at one point did actually sit on the Stanmore Hall estate, approximately where the road named Spring Lake is situated today. This house was originally called The Cottage, and was renamed The Dower House in 1923. This second Dower House also had some interesting history as it was used as headquarters of "Batalion Lacznosci Sztabu" the Polish resistance in the early 1940's during the last war. They installed eight-meter radio masts around the property and liaised with agents Bletchley Park. The property was later owned by Joe Bamberger an American financier with an interest in the film industry who established a chain of theatres called Electric Films Ltd. The house was demolished around 1955


---

Why not share us on Facebook


Or join our Facebook group
"Stanmore Middx. Past & Present"
For Hundreds more vintage photos of the area, as well as news and local events.