This demo is too wide for your mobile screen.
Please view on a tablet or PC.
<!menu above----------------->


In 1882, Frederick Gordon bought Bentley Priory, a fine 18th century house, turning part of it into a luxury country hotel. His property purchases included large areas of Stanmore and he promptly built a railway line to link his estates from Stanmore through Belmont to Harrow & Wealdstone. A station house still stands at the junction of Gordon Avenue and Old Church Lane. With ease of access to and from London now assured, he laid out a golf course over Stanmore Park, initially the course was for the private use of his hotel guests and friends.
Gordon had an elite circle of friend including lawyers, city brokers and MPs, and it was in 1893, together with his close friend Thomas Blackwell (of the Crosse & Blackwell dynasty) that they turned it into a private club with lawns, tennis courts and erected 'The Pavilion' which forms the basis of the present Club House.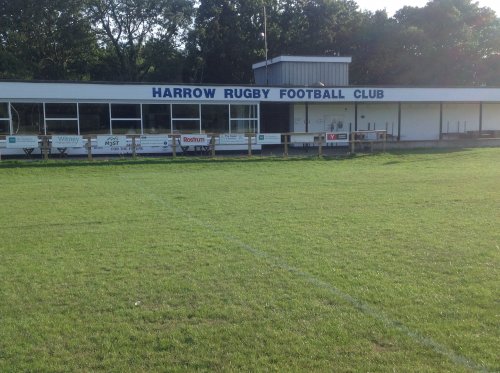 Founded in 1891 Harrow RFC has been a constant presence in the community and a successful rugby club for players of all ages. The Club has been at Grove Field, Wood Lane, Stanmore since 1953 and continues to attract members, supporters and players from the Harrow, Pinner, Edgware, Bushey and Watford region. The foremost club in the area, Harrow RFC is a well established member of the community and community rugby.
Harrow RFC is a Partner Club with Saracens. Players enjoy close contact including training with some of the games leading players
Harrow RFC has 15 teams competing in all age groups from Under 7 to Veterans. The Harrow 1st XV plays in the RFU London & SE Division in the London North West 3 Division
Harrow RFC promotes high standards of Safety, Conduct and Coaching. The commitment to the all-volunteer club is such that the club has achieved the highest level of recognition for sports clubs
Sponsors of Harrow RFC receive widespread recognition from the 300+ players, over 1000 members, supporters and parents and visiting teams throughout the 9 month rugby season as well as the benefit of supporting one of the leading community sports clubs in the whole region.



Situated on the border of Stanmore and Bushey is Stanmore Cricket Club, one of the oldest in the Middlesex county championship league celebrating 150 years in 2003 and is still successful at the present.
The club has nurtured two famous cricketers who have played Tests for England in the last two decades; Angus Fraser and Mark Ramprakash.


Founded in 1942, Stanmore Bowls Club welcomes those new to bowling as well as experienced bowlers from Stanmore and the surrounding areas. They are situated in Stanmore Recreation Ground, with their entrance off the Car Park, in Dennis Lane, Stanmore.
They welcome men and ladies to membership, and provide free coaching given by their members who are qualified under the English Bowls Coaching scheme.
The Club is affiliated to Bowls England, Middlesex County Bowling Association, and Harrow and District Bowling Association, and enters teams in the midweek and evening leagues ran by the latter. Ladies play in the local Weald League, and both gentlemen and ladies have a mixed weekend league and other friendly fixtures against other clubs in the area. They hold a few social events in the summer season, which is 5 months long from May through to September.
To find out more from the Club Secretary, please visit the website and use About The Club menu, and Contact Us.